Natural Language Processing • Language Models
Language Modeling + RNN
This is the task of predicting what word comes next.
Probability distribution over next words given preceding contexts.
Language model is a system that does that.
It assigns probability to a piece of text.

Gboard is a language model
Query completion is a language model
N-gram language models
Chunk of n consecutive words (4 gram, 5 gram)
Make a markov assumption: predict t+1, we throw away earlier words and just use n-1 words and use conditional probability
4 gram language model:

Only use last 3 words

Problem is if you don't see that data within your window, you'll get probability 0.
Count how often word sequences occur in a corpus.
N gram will not have context, it will be incoherent. We need to consider more than 3-4 words at a time if we want to model language well
N grams have a sparsity problem.
Neural Language Model
Input seq of words
Output prob dist of the next word
How about a window based neural model
A fixed window neural language model (discard far away words)
These still suck, precursor to RNN
Single hidden layer
Evaluating language models
Perplexity: standard evaluation metric; lower is better
Contextual Embeddings
Word embeddings work in NLP by neural networks

Word embeddings are context free
Bank will have the same embedding even if river or financial place

Solution: contextual representation on text corpus
ELMO
Contextualized word-embeddings
Trained bidirectional, but weakly
Instead of using a fixed embedding for each word, ELMo looks at the entire sentence before assigning each word in it an embedding. It uses a bi-directional LSTM trained on a specific task to be able to create those embeddings.
Left to right and right to left LM and concatenate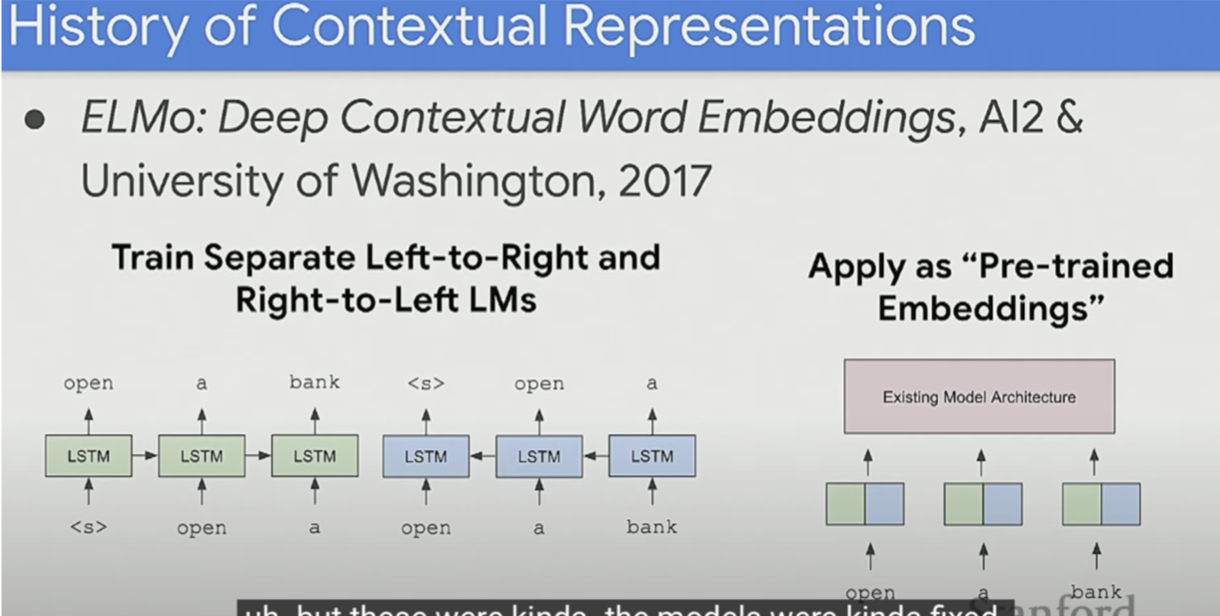 Models are still kind of fixed
Embedding from Language Model (ELMo) (Peters et al., 2018) is one such method that provides deep contextual embeddings.
ELMo produces word embeddings for each context where the word is used, thus allowing different representations for varying senses of the same word
GPT-3
Can use for DB
Language model
Given context, probability of next word is what it predicts
What new about GPT 3 is flexible "in-context" learning

Demonstrates some level of fast adaptation to completely new tasks via in context learning
The language model training (outer loop) is learning how to learn from the context (inner loop)
Citation
If you found our work useful, please cite it as:
@article{Chadha2021Distilled,
  title   = {Language Models},
  author  = {Jain, Vinija and Chadha, Aman},
  journal = {Distilled Notes for Stanford CS224n: Natural Language Processing with Deep Learning},
  year    = {2021},
  note    = {\url{https://aman.ai}}
}